The Time to Dream Is at Hand
The annual Apostolic Women conference is a gathering of women from all over the world for supernatural empowerment to fulfill the mandate and the call of God for their lives. God wants a population boom in the Body of Christ, and in order to have that, He has to bring women back to their proper function. It's time for the world to turn its eyes to the daughters of God! The world needs to see the Church healed!
There has been a shift
Watch the full prophetic Word below.
Apostle Doctor
Robin Harfouche

Apostle Doctor
Christian Harfouche

Christie Amira
Harfouche

Doctor
Ellie Hein

Rev. John
Harfouche
Sun, 4/16

at 11:00am & 7:00pm

Mon, 4/17

at 7:30pm

Tue, 4/18

at 7:30pm

Wed, 4/19

at 10:30am & 7:30pm

Thu, 4/20

at 10:30am & 7:30pm

Fri, 4/21

at 10:30am & 7:30pm

Sat, 4/22

at 10:30am

Sun, 4/23

at 11:00am
Miracle Faith Apostolic
Global Church
4317 North Palafox Street
Pensacola, Florida 32505
For special travel and accommodations information, please visit our Accommodations Page!
Apostolic Woman Ordination
During this life-changing conference, there will be a special Apostolic Women Ordination and impartation for those being ordained under this ministry. Find out how you can be a part of this global movement!
God has given Doctor Robin Harfouche an incredible revelation and ministry to preach and to reveal God's miraculous apostolic women and their vital role in the Church today. Find out how you can be a part of this movement, become ordained under this ministry, and receive an impartation that will take your life to another level.
• Certificate of Ordination
• Ordination Card
• Apostolic Women Course
• Mentorship & Impartation
Call us at (850) 439-6225 or email partner@globalrevival.com to learn more about your supernatural ordination today!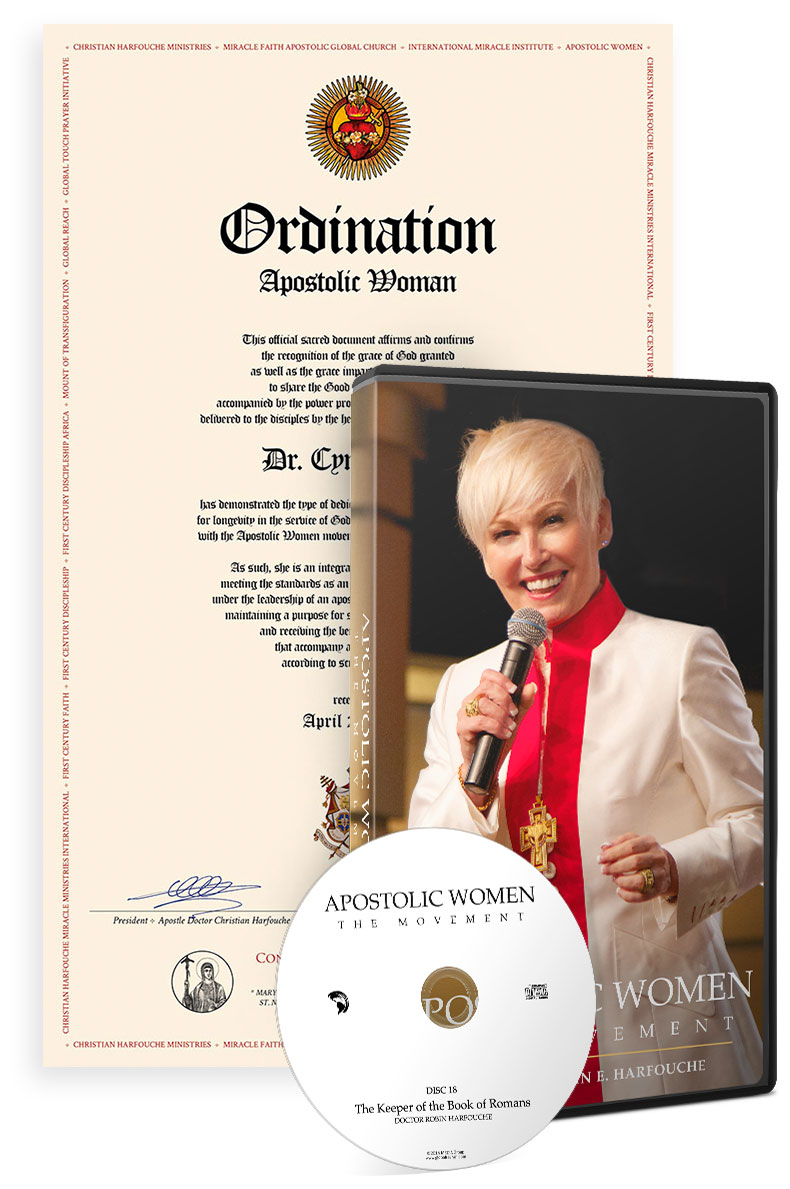 • Certificate of Ordination
• Ordination Card
• Apostolic Women Course
• Mentorship & Impartation
We've thought of everything! Your Apostolic Women Fast Pack will keep you on track this year, included with your registration!

Coming Soon!

Stay tuned! This year's Apostolic Women shirts will be available for pre-order soon!

Receive free videos, teachings, and miracle testimonies directly to your inbox. Sign up for our newsletter today!

You are almost done!

We just need a little bit more information.

×

Create Account

This form allows you to create a free website account, and collects personal information such as your name, phone number, email address, mailing address, and gender, that we may better provide you with ministry and services.

Free Download - Heavenly Identity

Fill out the form below to receive the first lesson of Heavenly Identity for free. Or, create your free account to receive access to stream all 16 lessons!

×